I absolutely love the iconic American Diner theme for kitchens, restaurants and cafes!
Retro, rock n' roll inspired kitchens and restaurants decorated to that taste have no doubt been the inspiration behind many of today's high-gloss kitchens.
A desired style for many, classic Diner furnishings and accessories are fairly easy to source and this is such a fun theme!  We're talking chequered flooring and tiles, bright colours, music memorabilia wall art, pop art, even juke boxes!
(Record 3 tier cake stand, $24.99 at Zulily, www.zulily.com)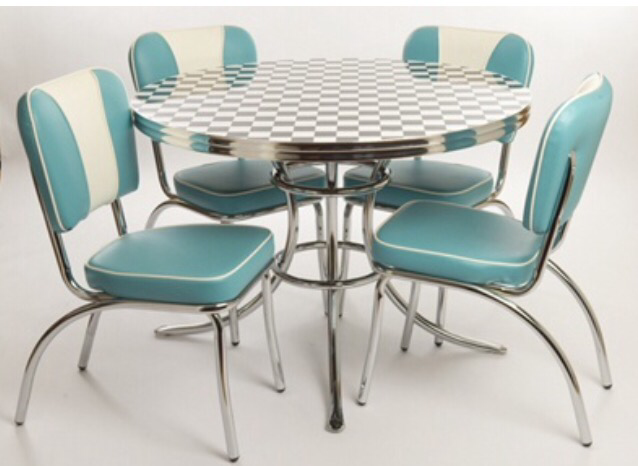 Coloured leather seating with stripes and chrome tables are key to creating the whole retro illusion.  Look for chequered detailing on chrome tables too!
You can thank the rock n' roll 50's – the glam era – for the high-up novelty of the bar stool!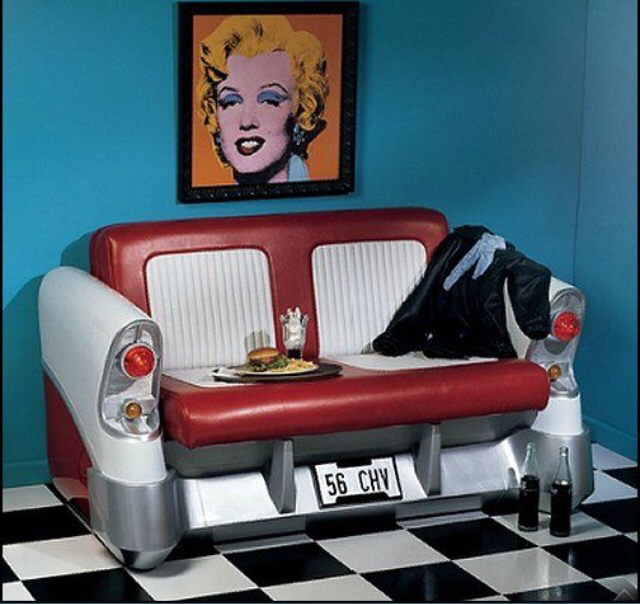 Many pieces of furniture in the American diners are designed to recreate classic cars from the original era, expect wall art and murals of Las Vegas and Marilyn too!
You may think you've gone back in time, or even in a movie!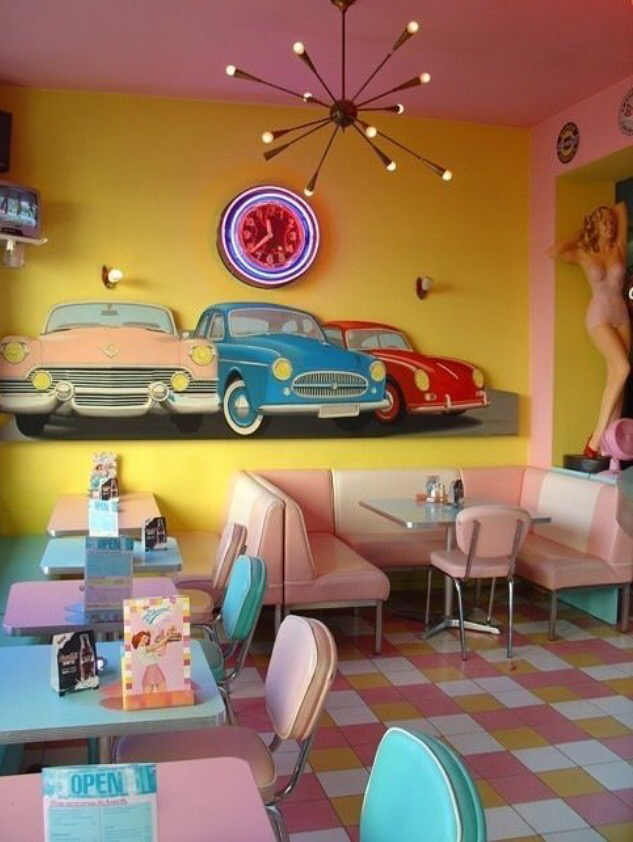 If you want to model your kitchen on this exciting theme, it's all about playing with colour; you don't have to stick to black, white and red, pink, sky blue and yellow will take your ordinary kitchen/diner from drab to fab!
Must Visit Burger Stop Alert!
Whenever I'm in Ireland my favourite place to eat is Dublin's Hard Rock Cafe (12 Fleet Street, Dublin 2).  Hard Rock is open from 12pm to 12am and it's high energy vibe never gets old.  It serves the tallest, tastiest burgers you will ever eat in a two storey restaurant that's heavily rock n' roll themed.
A large flat screen TV brings you the best of MTV Rocks while you enjoy a burger and a beer surrounded by real memorabilia from the likes U2 and Thin Lizzy.
U2's Trabbie car from their ZooTV tour is suspended from the ceiling